Mobile Orofacial Pain Service
Since orofacial pain does not involve treating teeth, the service OFP doctors such as provide can be mobile. All of the following is in a Lowepro Pro Roller x300 rolling case, which is a photographic suitcase on wheels. Instead of holding camera bodies and lenses, it holds everything that I need to treat a patient at home, at an office, or even at a film location set. Yes, that's right, everything I need to practice my profession is in the case below.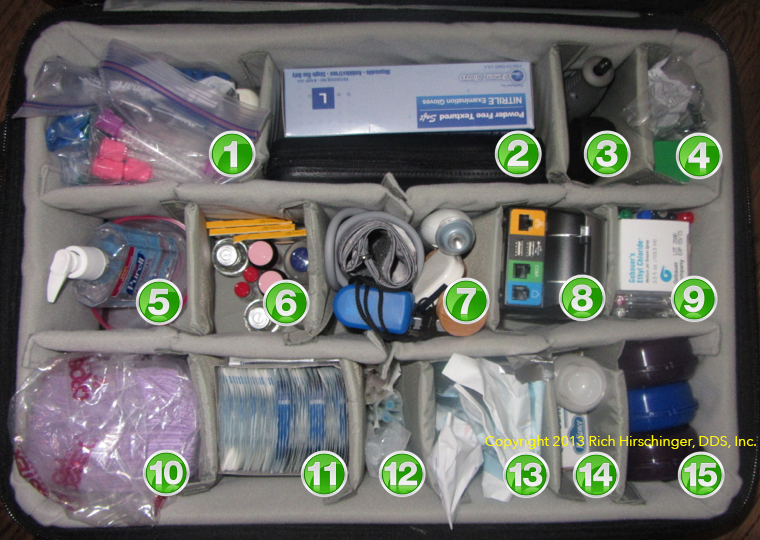 Here is a guide to the numbers, which represents what is contained within each compartment:
Impression materials, tips, and impression gun, impression trays, and George gauge.
Gloves, and Welch Allyn diagnostic kit for neurological exam including ophthalmoscope and otoscope.
Slow speed electric handpiece.
Occlude fit checker, and safety glasses.
Purell hand sanitizer, and rubber bowl for hot water.
Medications for trigger point injections and headache including 1% and 2% lidocaine, steroids, Cambia, triptans, and DHE.
Blood pressure monitor, pulse oximeter, tape measurement for neck range of motion, and neck size, thermometer, timer for impression material.
Credit card terminal.
Ethyl chloride, and anesthetic.
Patient bibs.
Alcohol wipes, and 2x2 gauze.
Syringes, and needles for trigger point injections.
Patient exam kit (see below), syringe, explorer, Tooth Slooth, acrylic burs, polishers, and articulating paper.
Duralay, and rubber dapen dish.
Appliance cases for splints, nightguards, and sleep apnea appliances.
Not seen - compressed air can to blow off the shavings when appliances need adjusting. This is in an outside pocket of the case.
Here is what is inside the new patient exam kit: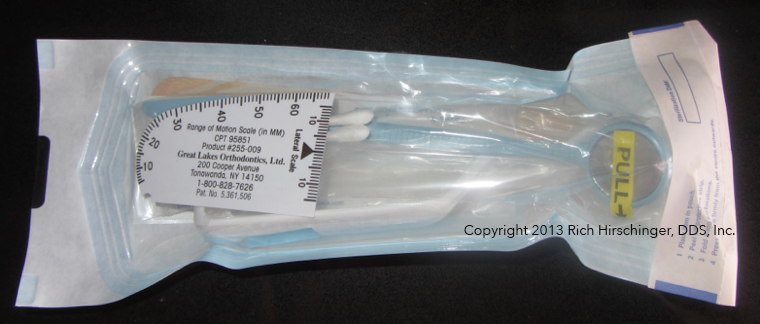 Range of Motion ruler
Disposable nasal speculum
Disposable mirror
Tongue depressor
Two Q-tips
Small piece of mylar
Disposable forceps for holding mylar
That's everything that I need to treat a patient with chronic head and neck pain and/or obstructive sleep apnea at my office in Beverly Hills, CA. I can take impressions for, and deliver, a nightguard, take impressions and deliver a dental appliance for obstructive sleep apnea, treat headaches including migraines, tension-type headaches, cluster headaches, treat severe head and neck muscle pain, treat neuropathic pain including trigeminal neuralgia, and treat TMJ pain.