Salli Saddle Chairs - Always Perfect Posture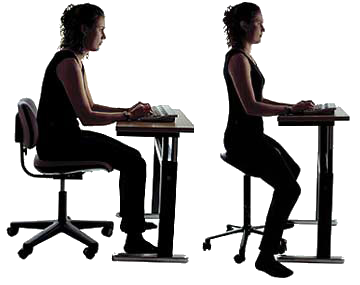 Dr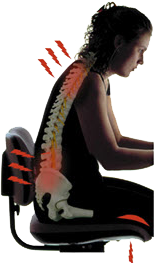 . Rich Hirschinger is an authorized Salli Saddle Chair Dealer. You might be asking why a doctor who treats patients for chronic pain is selling a certain type of chair? Quite simply it is all about posture. Your posture can contribute to chronic pain, and the Salli Saddle Chair is simply the best chair in the world to sit in for any length of time. It is the only chair Dr. Hirschinger uses in his Beverly Hills office, and it helped him before and after his double spinal fusion. It is a great chair for anyone but it is very useful for dentists when performing dental procedures, sitting in the office, or while sitting in front of a computer at home. We are authorized to sell to anyone, including dentists or non-dentists.
Since pictures are worth a thousand words, simply view the images on the right to see the benefit of the Salli Saddle chair. What Dr. Hirschinger experienced first hand is that your back thinks it is standing while you are actually siting. When you move to stand in a typical chair after you have been sitting for more than a few minutes, your back has to move, and you might have pain. When you move to stand in a Salli Saddle Chair after you have been sitting for minutes or hours, your back doesn't move since it has been straigh t the whole time. If you have a bad back, or even if you don't, you will sit properly in the Salli Saddle chair with excellent posture.

Salli Saddle chairs come in several different models but Dr. Hirschinger only sells four models, which are the Classic, MultiAdjuster, Swing, and the Twin. Women can use all four, men should only use the MultiAdjuster, the Twin, or the Swing since there is a split in the seat for male comfort. If that doesn't make sense, just watch the video below and let Conan explain it to you.
Salli Classic

Salli Classic's seat is solid and when used full time it is only suitable for women. It is suitable for men for part-time use such as when doing a hygiene check. Classic's height is easily adjustable with a gas cylinder. Learn more about the Salli Classic.
Salli MultiAdjuster

Salli MultiAdjuster is adjustable for all users. The seat is divided into two parts, making full-time work possible for both genders. The height of the seat is adjustable with a gas cylinder, the width and the inclination of the seat are easily adjustable to fit for every sitter. Learn more about the Salli Multiadjuster.
Salli Swing
The Salli Swing Saddle Chair rocks and tilts in every direction for healthy freedom of movement. Patented divided seat relieves genital pressures for cool comfort. Learn more about the Salli Swing Saddle chair.
Salli Twin

Salli Twin is a healthy chair for both genders. The divided seat makes it an excellent basic seat. The height of the seat is easily adjustable with a gas cylinder. Learn more about the Salli Twin Saddle chair.
View the Salli Saddle color options
.

Read the Salli Saddle Information Manual and Warranty information.
To view the Information Manual or Warranty Information, please click on the respective links above. You will need Acrobat Reader, which is a free software program available by clicking the Get Adobe Reader button below.